Nollywood Movie 'Eagle Wings' Premieres On March 12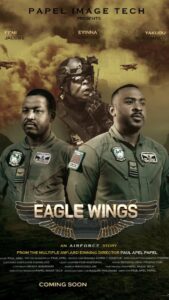 Nigerian Airforce and Nollywood movie collaboration 'Eagle Wings' premiers in cinemas on March 12 in Lagos.
The producers hosted an event for the Lagos premiere of the Nollywood war film at City Mall.
During the event, the producer said;
"I am excited about making this movie at this moment because Nigerians will appreciate how much effort the military has to go through and the sacrifices they make to ensure we have the peace we are experiencing.
"We have seen firsthand what they go through and if we begin to appreciate them they will do more.
"In this film, we win this fight so we are going to win the fight in the real life also.
"We make films to give people hope and in this movie we have that hope, we can now see the light at the end of the tunnel."
The movie was written, directed and produced by Paul Apel Papel.
It features the likes of Paul Apel Papel, Francis Duru, Keppy Ekpenyong, Sadiq Daba and a host of other fantastic people.
See Also: Jide Kene – Problem With Nollywood Is Stereotyping
Thanks for reading.