See Stunning Photo Of Nikki Bella And Her Family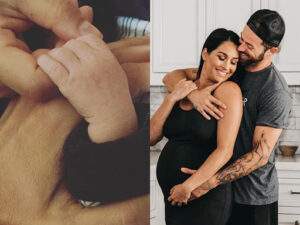 Well, when you thought you've seen it all, Nikki Bella and her family gets cuter as the days go by.
The WWE Hall of Famer shared a very astonishing photo of her son Matteo Chigvinstev and fiance Artem Chigvinstev.
Both parents were delighted to share and flaunt the photo of their beautiful blessing on social media.
But those duo photos pale in comparison to the photo having all three persons wearing a big glad smile.
The couple welcomed their bundle of joy on the 31st of July, 2020, and was named Matteo Artemovic Chigvinstev.
He was born one day before the birth of her twin sister Brie Bella's second child's birth.
See some of the stunning posts below;
"Matteo Artemovic Chigvinstev 7/31/2020…7 Ibs 3 oz…193/4 in"
"My life is so complete…@theartemc @people"
"Fater and son @thenikkibella we did good"
"Everything that matters in one picture #family"
"Dancing feet… …#dwts"
See Also: Davido Shares His Experience With Racial Discrimination
Thanks for reading.
Leave a comment in the sections below