Josh Gad Shares Final Texts From Chadwick Boseman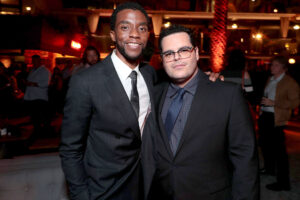 Actor, Josh Gad has shared the touching final texts he had received from the Late Chadwick Boseman.
The whole world shook after hearing of the Black Panther's actor demise on the 28th of August 2020.
The actor had passed away after a four-year battle with colon cancer according to his representatives and his family.
In their statement, they said;
"It is with immeasurable grief that we confirm the passing of Chadwick Boseman." the statement started.
"He was diagnosed with stage III colon cancer in 2016 and battled with it these last 4 years as it progressed to stage IV.
"A true fighter, Chadwick persevered through it all and brought you many of the films you have come to love so much."
The stars from Black Panther including Marvel Studios have paid their respects to the American star.
On hearing the news of his death, Gad put out a tweet with a screenshot of the message he had received from the actor.
"Breaking my Twitter silence to share some beauty. This was one of my final texts from the brilliant & once-in-lifetime talent, @chadwickboseman – take this in and celebrate life.
"He knew how precious every moment was. Tonight the Heavens received one of its most powerful angels."
On the text received, the late actor talked about Gad cathing the rain as the title read 'Catch The Rain';
As part of the message, he told his MARSHALL co-star;
"If you're like me, maybe you looked at the week's forecast and found that it's supposed to rain for three straight days.
"Not without breaks of sunlight and reprieves of moist gloom, but yea it's gonna be coming down like cats and dogs."
He then proceeded to say that;
"But now that the rains have stopped and today's storm as cleared, I urge you to go outside and take a DEEP breath."
In essence, the late Boseman advised Gad to be thankful and grateful for the wonders of the day, each passing day.
https://www.instagram.com/p/CEdMcGupslC/
https://www.instagram.com/p/CEdOnYmpzD9/
RIP Chadwick Boseman, your legacy will live on.
Thanks for reading.
Leave a comment in the sections below.