Paul Okoye Slams Davido For Slamming His Party People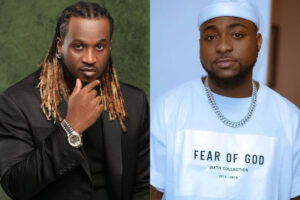 These few days have totally been eventful as Paul Okoye slams Davido for taking a swipe at those who attended his birthday party.
I guess we can call these few days a slam jam.
The Okoye twins celebrated their 39th birthday separately, having different parties and we all know why don't we?
Peter had an indoor party while his other half Paul had a couple of celebrities in including Jude Okoye, Harrysongz, and Yemi Alade by a poolside.
But D.M.W's boss wasn't really pleased with those who had decided to attend the separate parties of the musical twins.
In his post which he shared on Twitter, Davido called the attendees p*****s;
"Y'all niggas that wen to Peter and Paul's bday separately y'all pussy as fuck!! Them niggas is TWINS!! Not my business but Shit hurts I'm angry walai."
But Paul isn't having it as he has shown his displeasure in the D.M.W's boss statement on Instagram stories.
"On what level, and what Audacity do you have to call my family and friends pussy… bro has it come to this? Am highly disappointed with you.
"You don't have the right to insult my family and friends…That's fucked up."
He also continued saying;
"For your info…90% of those that came to mine still went to his…Same the other way round. And I respect their decision."
Paul had earlier taken shots at his twin brother's wife, Lola Omotayo after she had celebrated the brothers on Instagram.
In her birthday wish she had hoped that they would squash their beef as they both have a special relationship.
Both Okoye twins have been on each other's throats since 2015 before calling the duo quits in 2017.
There were Instagram shades and Twitter slamming and unexpectedly, there was almost a fistfight between the brothers.
Thanks For Reading.
Leave a comment in the sections below.