Regina Daniels Gets Son's Name Tatted On Her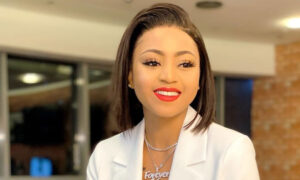 Nigerian actress Regina Daniels has recently gotten the name of her son tatted on her wrist.
She shared a short video of the pretty art work on her personal Instagram account on Wednesday, July 22, 2020.
The tattoo has a heart along with an EKG meter, with the name of her child underneath.
Her son is named 'Munir,' a Muslim name which means 'bright, brilliant, radiant,' who was born to Ned Nwoko in June.
The birth of the child was first shared by the actresses brother on Monday, June 29, 2020.
See Also: Logic Announces Retirement With New Album
Leave a comment in the sections below.