Rihanna Talks About Her Skincare Routine And Tips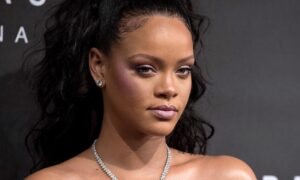 Barbadian singer, Rihanna launched her Fenty Skin Product Line and took fans through her impressive an outstanding skincare.
She gave this for her nighttime skincare routine on Harper's Bazaar September issue.
The singer talked about all the tips she had picked up and now practice, she also showed how she uses her three launched products.
She didn't just speak, she also stood in front of the mirror to carry out the process for her clean face and bare skin.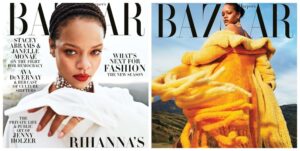 During her explanation, the Fenty boss said;
"Whether it's drinking a lot of water or I travel a lot, so my skin gets dry on the plane and I need it to stay hydrated, so I use our Fenty Beauty hydrating mist.
"It's makeup refreshing mist, but it also doubles as a hydrating mist.
"I stick with hydration, but also a healthy diet, people from the best, most exotic islands with access to the best ingredients and stuff like that.
"The best environment and and climate and humidity, their skin is beautiful. I try to implement a lot of those ingredients into my skincare line as well."
The Fenty Beauty boss also told the magazine that she had always had a thing for skincare.
"I've always seen the Fenty brand as more than just makeup, and I knew I wanted to make skincare from the very beginning.
"It was just about getting it right. You have to live with the formulas for a while and test them in different ways.
"It's very different from makeup in that sense. It takes a long time."
See Also: Joe Budden Refuses To Apologize To Logic
Thanks for reading.
Leave a comment in the sections below.