6ix9ine Says He Is Shocked He Isn't Dead Yet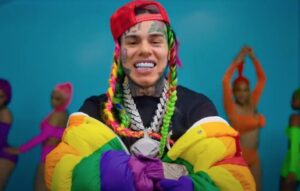 New York rapper, Tekashi 6ix9ine has stated that he is shocked he isn't dead at the moment.
The rapper has been under protection for sometime since his release after he aided the arrest of Nine Trey Gangsta Blood gang.
And for sure, Tekashi is a bit surprise that he is still breathing.
Since returning, the rapper has released three singles, Gooba, Trollz featuring Nicki Minaj.
He also stated that he Tekashi would have been running around in the streets at the moment if he were not under house arrest.
On July 11th 2020, a blog on Instagram had questioned the rappers activities on whether he would be active once through with house arrest.
"Y'all think 6ix9ine gonna be back running the streets when he gets off house arrest or will he move outta America and hide out for the rest of his career?"
To this question, the New York rapper responded;
"I'm surprised I didn't die yet, but it's not so bad being dead the way ya support the artist after they die #fakelove."

Even one of his lawyers Dawn Florio had expressed his concern on the particular matter in question speaking with New York Post;
"I'm concerned. Lots of people condemn Danny for cooperating with the government. Even a young gang member who wants to make a name for himself could try something."
According to TMZ, the rappers lawyers have stated that once he gets out, he'll stay out of trouble and focus on his music.
Thanks for reading.
Leave a comment in the sections below.