Omo Ghetto Becomes Highest Grossing Nollywood Movie
Omo Ghetto Becomes Highest Grossing Nollywood Movie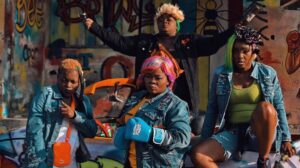 Omo Ghetto, a movie co-directed by Funke Akindele-Bello has broken a four-year record as the highest-grossing movie in Nollywood.
The Saga knocked Kemi Adetiba's 'The Wedding Party' out of being the highest-grossing Nollywood movie of the decade.
Reports received stated that the movie had gained a whooping #486,036,300.
Since the news broke out, many took to Twitter to express their pleasure and congratulate the actress;
Give Funke Akindele her flowers sha. Outgrossing Wedding Party. Inside a pandemic. With dwindling cinema culture. Nah. That's high level boss shit.

— Taiwo (@OgaBoxx) January 26, 2021
I am extremely proud of @funkeakindele #recordbreaker #omoghettothesaga

— Uche Jombo Rodriguez (@uchejombo) January 26, 2021
Funke Akindele is very hardworking

— Sheni Coker (@sheni_coker) January 19, 2021
You gotta give it up to @funkeakindele ,,,,common a blend of street, classy, romance, betrayal, action, comedy, all in one movie #omoghettothesagamovie this movie is underrated if it doesn't win like 10 awards

— mikky EndSarsNow (@mikky_shaggy) January 23, 2021
Funke Akindele about to hit half a billion at the cinemas. I'm so happy cause I watched her build her career from the bottom. Talent + Hard work🙌🏾

— Growth Queen (@oluremi_x) January 21, 2021
Hard, Smart and Action-work will always deliver.

Passion + Preparation + Patience + Persistence+ Principles + Productivity + Production + Promotion +Positivity + Prayers will end up in Praise, Profits & Prosperity.

Her efforts on #omoghettothesaga is commendable#funkeakindele pic.twitter.com/40ds9HibXC

— Sola Adesakin (@SolaAdesakin) January 26, 2021
Congratulations @funkeakindele and @JJCSKILLZ, the box office crown is yours #OmoGhetto pic.twitter.com/CTO0hTEvuj

— Inkblot Productions (@InkblotPresents) January 26, 2021
Funke Akindele is a genius.
Eniola Badmus is a cute fool.
Mario is an amazing goat.

Very impressive guys!👏🏻

— Faith (@fbi_initials) January 23, 2021
Funke Akindele be doing numbers
Crazy!

468Mil!

— Chef Blvck (@blvckbillionair) January 26, 2021
https://twitter.com/khul_dan/status/1354142893552889856
https://twitter.com/NkechiBalogun/status/1351497688588681223
See Also: Trey Songs Arrested For Assaulting A Police Officer
Thanks for reading.