Megan Thee Stallion Confirms Getting Shot By Tory Lanez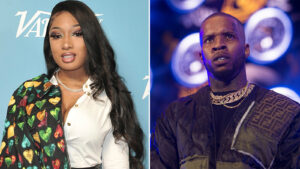 Rapper, Megan Thee Stallion has confirmed getting shot by Tory Lanez.
It is no news about the shooting but as it stands, it is not looking good for the Canadian rapper and singer.
Megan had taken to Instagram saying she had been shot on the night of rapper and singer, Tory Lanez's arrest on Sunday, July 12.
This sparked a lot of heat on the web, leading to a petition for the deportation of the Canadian. The petition had gone far making things worse for him.
During an Instagram live session on August 20, the Houston rapper talked in detail on how the shooting went down.
"Since y'all hoes so worried 'bout it, yes this nigga Tory shot me. You shot me. And you got your publicist and your people going to these blogs lying and shit.
"Stop lying. Why lie? I don't understand. I tried to keep the situation off the internet, but you dragging it. You really fuckin' dragging it.
"Muthafuckas talking' 'bout I hit this nigga. I never hit you. Muthafuckas was like, 'Oh, she mad' cause he was tryna fuck with Kylie' No, I wasn't.
"You dry shot me."
The Houston born rapper reminded everyone that there were four people in the car;
"Everybody in the car…..it's only four muthafuckas in the car, me, you, my homegirl, and yo' security."
She then went on to explain what actually ensued in the car before the shots were fired.
"Everybody in the car arguing. I'm in the front seat, this nigga in the back seat, I get out of the car, I'm done arguing.          
"I don't wanna argue no more, I get out. I'm getting away. This nigga, from out the back seat of the car, start shooting me. You shot me. I ain't get cut by no glass."
Megan Thee Stallion later went on to explain the reason she didn't report was the fact that they'll have to explain the reason for the gun in the car.
"Soon as the police tell us all get out the muthafuckin car, the police is really aggressive. You think I'm 'bout to tell the police that we, niggas, us Black people, got a gun in the car?
"You want me to tell the laws that we got a gun in the car, so they can shoot all of us up? Nigga, I'm scared. It's a fuckin' helicopter over us and some mo' shit.
"Why the fuck would I tell the laws somebody got a gun in this car and this nigga shot me? So I can get shot, you can get shot, she can get shot?"
But before going live on Instagram, Megan took to Twitter and shared a post;
"Lie one more time and ima quit sparing you."
Lie one more time and ima quit sparing you

— HOT GIRL MEG (@theestallion) August 21, 2020
"He shot me and I still tried to protect him because the police be killing us" – @theestallion

This has me in TEARS. My god. Black women WHEW! We cant even fight for our own lives w/o feeling like we have to protect the lives of the people who commit acts of violence against us

— Kim Moore (@SoulRevision) August 21, 2020
Right now, there are chances that the Canadian artist could be facing a felony assault charge after the shooting incident.
Even though Lanez has not been declared as a suspect, the Police have been urged to carry out a thorough investigation on the issue.
Thanks for reading.
Leave a comment in the sections below.