Kanye West Apologizes To Wife Kim Kardashian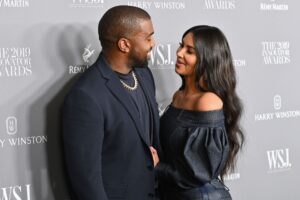 There has been a lot going on in the Kardashian/West home following a rant on Twitter and Kanye West apologizes.
Yeezy had admitted to getting a divorce with his reality star wife Kim Kardashian after a prison reform Meek Mill visit.
Other than that, Ye had made a lot of statements that were deemed controversial and a little bit concerning.
But the billionaire rapper's wife had come out to blame all of his rants on his mental status at the time where in her statement she said;
"As many of you may know, Kanye has bipolar disorder.
"Anyone who has this or has a loved one in their life who does, knows how incredibly complicated and painful it is to understand."
Although, the rapper has come out to apologize to his wife for putting their relationship problems outside.
On Saturday, July 25, 2020, Ye took to Twitter to publicly give his apology to the Keeping Up With The Kardashians star;
"I would like to apologize to my wife Kim for going public with something that was a private matter.
"I did not cover her like she has covered me. To Kim I want to say I know I hurt you. Please forgive me. Thank you for always being there for me."
We only hope that all is forgiven though.
Tell us what you think.
Leave a comment in the sections below.